L'INTENSITÉ DE LA NATURE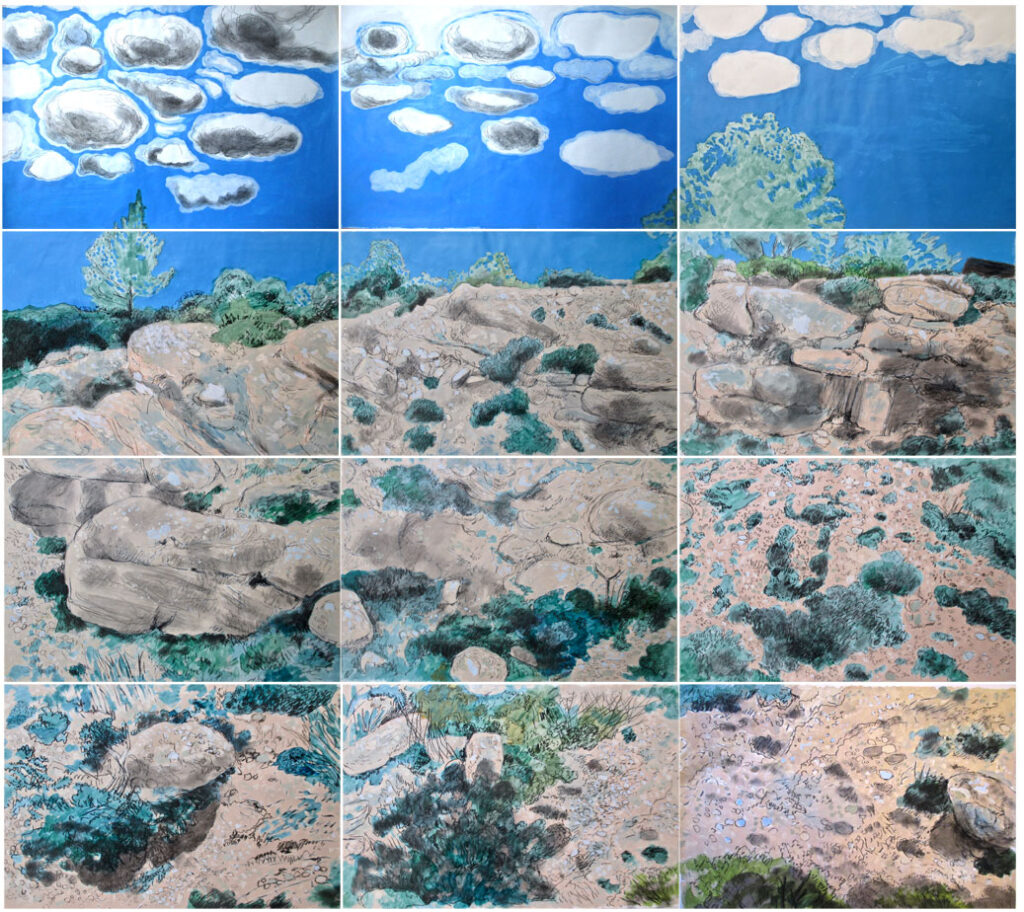 La figure humaine a longtemps été mon seul motif, avec le paysage en derrière plan.
Certainement à cause de mon éducation artistique dans les années 70-80 ou le focus était l'abstraction et conceptuel, le paysage était considéré comme étant "ringard". Et à un moment donné le paysage avait été quasiment banni du répertoire de la peinture contemporaine. Pourquoi? Ce sont au contraire, pas la nature, mais les représentations qui sont considérés ennuyeux. La nature n'ennuie jamais, n'est ce pas. Il y a des sujets inépuisables dans la nature. Et en observant, on n'arrête pas de voir de plus en plus.
Je suis très sensible à la beauté. Nous en avons besoin. La beauté n'est pas complexe. Je suis sensible à la nature qui n'est jamais au repos. Elle change constamment. C'est le pouvoir de la nature qui nous parvient à travers les couleurs, les contrastes et ses sensations. La nature est vivante, consciente, affirme sa présence, et quand tu ressens quelque chose très puissamment tu ne peux pas l'échapper;
J'éprouve de la joie et de l'amour à peindre et dessiner. Mais aussi une bonne dose de frustration, même parfois bouleversante. Consciente de la difficulté du challenge que je m'impose. Cela dit, il m'est important de continuer à me remettre en question.
Pas tout sera une réussite. Mais le travail progresse. Avec des moyens simples et divers, pour prendre le temps. Le temps de rêver aussi.
THE INTENSITY OF NATURE The human figure has long been my only motif, with the landscape in the background. Certainly because of my artistic education in the 70s-80s where the focus was abstraction and conceptual, the landscape was considered to be "cheesy". And at one point the landscape had been almost banished from the repertoire of contemporary painting. Why? On the contrary, it is not the nature, but the representations which are considered boring. Nature is never boring, is it? There are inexhaustible subjects in nature. And as you watch, you keep seeing more and more. I am very sensitive to beauty. We need it. Beauty is not complex. I am sensitive to nature which is never at rest. It is constantly changing. It is the power of nature that reaches us through colors, contrasts and its sensations. Nature is alive, conscious, affirms its presence, and when you feel something very powerfully you cannot escape it; I experience joy and love in painting and drawing. But also a good dose of frustration, even sometimes overwhelming. Aware of the difficulty of the challenge that I impose on myself. That said, it is important for me to continue to question myself. Not everything will be a success. But the work is progressing. With simple and diverse means, to take the time. Time to dream too.